You're always on your toes trying to direct traffic to your WooCommerce store.
But your store has slouching conversion rates. Window shoppers and lurkers are not converting into buyers. They're bouncing off your site without transacting.
The problem is your store is NOT optimized to convert shoppers into buyers.
And when your store lacks conversion hacks, no matter how hard you try, your visitors will slip through those cracks. The money that they were to pay you will go down the drain.
XL WooCommerce Sales Triggers Boosts Conversion Rate By Deploying 7 Power Packed Convesrion Triggers
The Triggers deployed by high-selling stores like Amazon, Zappos, Ebay, Sears, are now available to you.
The Best Part: You don't need any coding expertise to deploy it on your store. Simply get the license, install the plugin, activate the triggers you'd like to use and watch the orders coming in.
So what are these Triggers?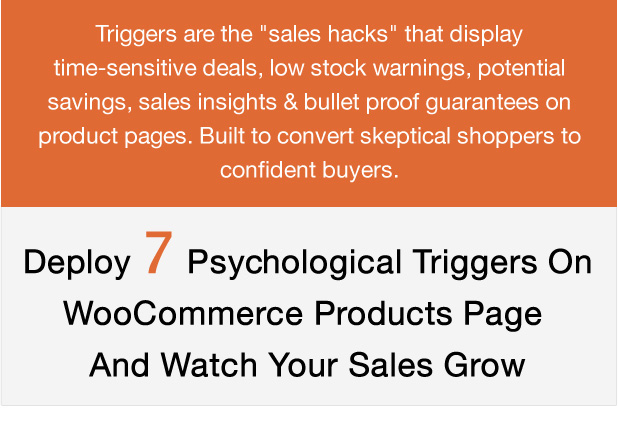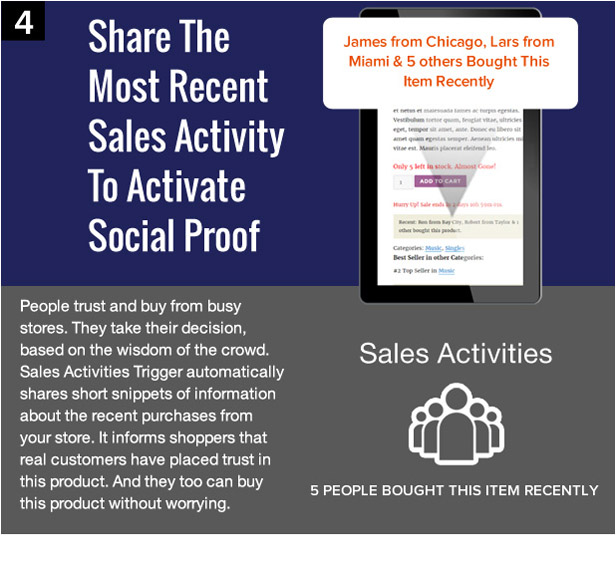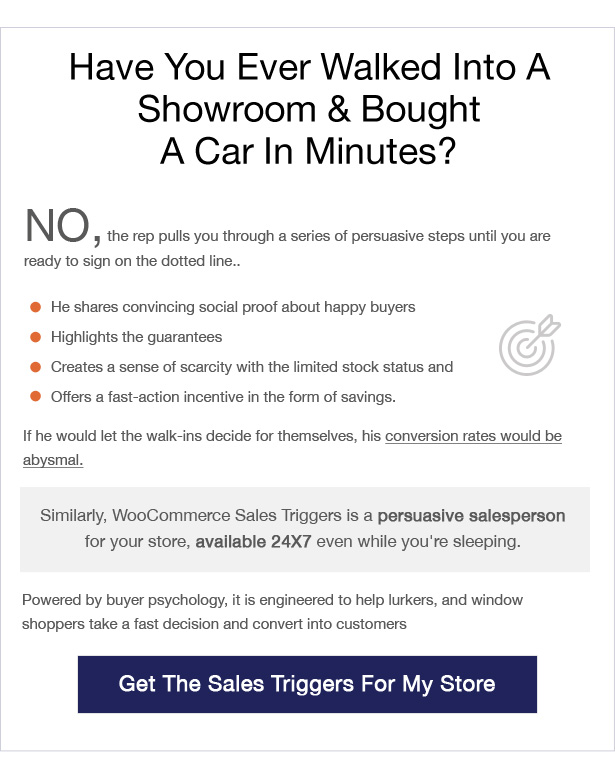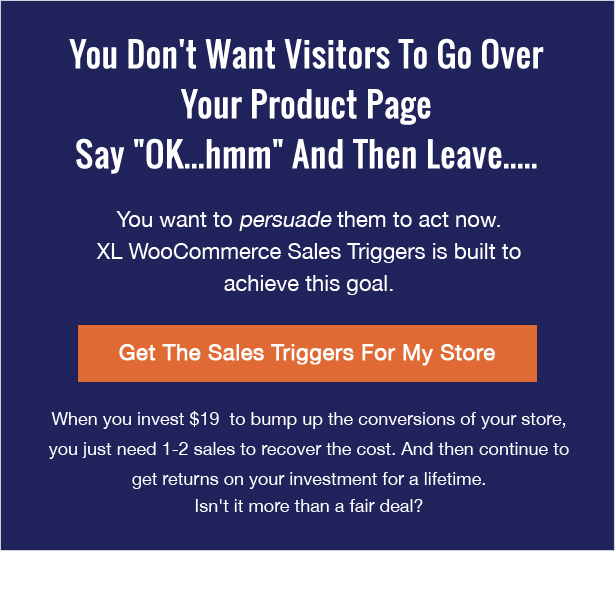 Raving Reviews from Happy Store Owners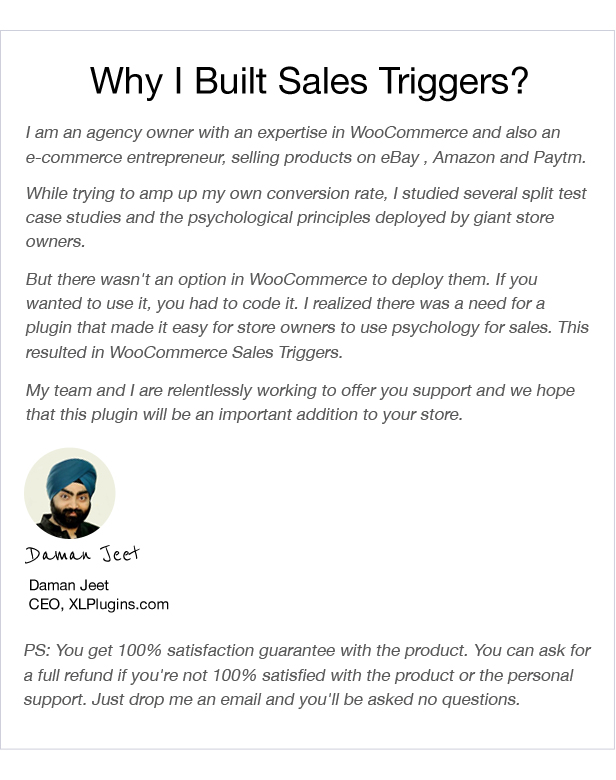 Frequently Asked Questions
Q: Are these text block dynamic?
A: Yes, the trigger messages are based on real data of your store. Once you set it up, the dynamic text updates automatically.
Q. How can I check the demo?
A: We have set up all the triggers on this plugin. If you make a test purchase, the messages on the page update automatically. Check for yourself.
Q. Can I change the language of trigger messages?
A: Yes, you can because all the messages are simply filled out templates with merge tags. You can update messages with the language (German, Italian, French, etc. ) of your choice.
Q. Can you demonstrate via example some of the usecase?
A: Yes sure, Let me try and demonstrate with an examples:
Let's say from your reports you want to find out that products from "Chocolate Hampers " were most sold products last Valentine.
Since Valentine Day is approaching, you now have the opportunity to use "Sales Insight" Trigger to amplify social proof.
You can use various:
Step1: Configure a new trigger "Sales Count". Select Date Limit "Custom" and select date range.
Step2: Use merge tag "sold_item_count" to generate a message, "This item was sold 35 times last Valentine season".
Step3: Configure a rule and set it up in a way that message only shows on products belonging to category "Chocolate Hampers".
Step4: You can even set to hide based on order quantity such that this message only shows on items only high selling products.
You just set up a message with highly relevant social proof message for highly specific products
Q. How can I show Triggers anywhere?
A: Shortcodes have been provided for each trigger. This means they can be embedded in editor to render triggers or placed in theme files to render on places of your choice
Q. How do you provide support?
A: We have set up a dedicated helpdesk for it. If you need help, feel free to email at [email protected]
Q. Will this work for me if I am new store owner?
A: Yes definitely. In fact, if you are a new store you had to find this directly impacting your bottom line. Think about it, your new store may have less traffic in the beginning, and you want to convert more visitors to buyers. This plugin helps you get more sales from same traffic.
If you are a store which has got high traffic, think about how much money you are leaving on the table by not deploying these triggers.
Q. Why is this plugin so competitively priced?
A: There are two reasons to it:
1. We launched this plugin very recently, and we wanted to introduce it at a super competitive price so that price is not a barrier for early adopters. And more and more store owners can see its benefits on their bottom line.
2. We've launched a bundle of 7 effective triggers now, but more triggers and features are under development. Thus this price is only effective till the new version is launched.
Q. Can I use just a few of these triggers or do I need to activate all of them?
A. Yes, of course. You can activate the triggers that you want while the others remain deactivated. It all depends on what you need.
Q. What kind of custom messages can we create? Do you have any pre-written templates?
A: Yes we do! Here are some of the options to tick your brain cells
Timer Messages
1. Act Fast! Sale ends in 5 Days 11 hours.
2. Claim your deal now! Prices go up after 21 Dec 2016 midnight
3. Hurry up! Deal expires in 12 HH: 40 MM : 36 SS
4. The Christmas special deal expiring in HH:MM
Items left in stock
1. Only 2 items left in stock. Hurry!
2. Currently the item is in stock.
3. Only 2 items left in stock. This product may run out of stock as early as today.
Savings
1. You save 20% on this item. Deal soon expiring.
2. Save 20% or $25 on the product you're viewing. Buy now!
3. Hurry up! Make instant savings of 20% or $25 on the item you're viewing.
Sales Activities
1. 3 people bought this item recently.
2. 5 people bought this item recently for Christmas.
Guarantees
1. Hassle-free returns
2. Quick & Easy Returns
3. Hassle-free shopping & Fuss-free returns
4. Ironclad return & refund policy
5. Shop with confidence: No questions asked, free returns & easy refunds
Smarter Reviews
1. Woohoo! The product you're viewing boasts of 86% satisfaction rate.
2. More than 75% shoppers happily gave this product more than 4 stars!
3. Great choice! This product as a high 92% buyer satisfaction rate!
Best Sellers
1. Great pick! The product you're viewing is a best seller in women's clothing category!
About XL WooCommerce Sales Triggers Plugin
XL WooCommerce Sales Trigger is a WooCommerce Plugin that lets you put advanced messages (.a.k.a 'Triggers") on product pages. These triggers induce scarcity, build trust and inspire shoppers to take actions.
This plugin improves the conversion rate of your WooCommerce store and gets you more sales from your existing product pages.
Here are the seven profit-pulling triggers you can deploy on your product pages right away:
1. Deal Expiry: WooCommerce Countdown Timer, Sales Countdown
Deal Expiry trigger shows countdown time timer for products on scheduled sale. By giving discounts, you're dangling a carrot, and by informing them about the deadline, you're using the stick. It motivates the user to buy.
2. Low Stock: WooCommerce In Stock, Low Stock, Out of Stock Status
Buyers tend to delay buying. The only way to get them to act fast is to give them a reason to do so.The Low Stock trigger gives them a credible reason by intimating them about limited stock availability.
If the number of items available in stock is greater than the set threshold, it shows 'In Stock' message.And if it's below the threshold, the stock status message automatically switches to- 'Only two items remaining. Almost Gone…!'
The former assures the shoppers that there'll be no surprises post checkout. The latter creates a sense of urgency and makes visitors act fast.
It is way better than what native WooCommerce does i.e. display the number of in-stock items, even if it is 4000!
3. Savings: WooCommerce Total Savings
Displaying savings is an excellent way to replace the pain of parting with money with the joy of finding a good deal.
Use this trigger on discounted products to show savings in absolute number and percentage.
When a shopper sees how much they can save by taking the deal, they feel compelled to unlock the savings. Their focus shifts from spending money to saving it on an item they anyway needed.
4. Sales Insight: WooCommerce Sales Social Proof
Would you get attracted to a shop bustling with activity or an empty one?The busier one, right?
People are more likely to buy from a busier store because it gives them a credible reason to trust it. It makes them feel that 'if others are buying, the products must be good.'They take the decision based on the wisdom of the crowd.
That's what this trigger helps you achieve.
The Sales Activities Trigger shares a small snippet of information about the recent purchases. It displays the information in two formats:
The first name and location of the most recent buyers.
The number of purchases in a chosen period.
This trigger acts as a social proof especially for first-time visitors who want to be sure that the store is legit and the item is selling.
5. Guarantee: WooCommerce Estimated Shipping, Delivery, Return
Shoppers always have concerns and questions:
'When will this product be shipped?'
'Can I return it if I don't like?'
'Does this order size qualify for free shipping?'
'Is the checkout process secure?'
These objections can kill the sales in the last minute.
The Guarantee trigger allows you to answer these last minute inquiries on the product page itself, amping up buyer confidence.Add details in this box about:
Hassle-free returns
The free shipment threshold
Information about areas where you ship
Secure checkout
Trust Badges
Insert any other piece of information that can address their objections.Providing these on the product page is the sure shot way to eliminate final doubts about your products.
6. Smarter Reviews: WooCommerce Smarter Product Ratings
Let's face it: A small number of product reviews give people an impression that the product is not selling well.
Shoppers are used to seeing hundreds of reviews for each product on sites like Amazon, eBay, Zappos.
You may be losing visitors just because your products may only have a handful of reviews. Sample this, which statement creates a better impression:
Case 1: 4 customer reviews OR 86% satisfaction rate
Case 2: 5 customer reviews OR 90% buyers gave more than 4-star rating
In both the cases it is the latter one. This trigger disrupts their thought process and reframes the argument in favor of larger numbers.
Shoppers will have much less resistance to the reframed statement because you have smartly led the argument with a bigger number.
7. Best Sellers: WooCommerce Best Seller Badge
Have you been to a new restaurant and asked the dining waitress to guide you to the best/most popular dish?
We all do that. Similarly when a first-time visitor, lands on your store, the best-seller badge guides him to the most sought-after product in your store.
This trigger sticks an eye-catching badge on the product/category page and guides the visitor to the best selling items.
First, it gives them big, bold thumbs up that the product they're viewing is a popular choice.
Second, it sends a subconscious message that people are buying from you.
This trigger helps reduce shopper's anxiety.
Change Log
 December 27, 2017 - Version 2.3.0
    - Added: Compatible with Tucson & Techmarket theme
    - Improved: Latest CMB2 version 2.3.0 added
    - Added: PHP 7.2 compatible
    - Fixed: Savings trigger: For variations, savings data appended just below variation price. Duplication fixed for Avada case.
    - Fixed: Savings trigger: 'Hide top variation price' default value is set to 'yes'

 December 15, 2017 - Version 2.2.8
    - Added: Compatibility with yith product bundles addon
    - Added: Compatible with WordPress 4.9 version
    - Added: Compatible with Boxshop theme
    - Added: Compatible with WooCommerce 3.2.5 version
    - Improved: XL core updated to 3.4
    - Fixed: Guarantee trigger countdown timer merge tag was not ticking from the last update.
    - Fixed: Shopkeeper theme compatibility code modified for latest version.
    - Added: Tools Export functionality added for quick debugging.
    - Added: Transients clear feature added on Settings page.

 October 30, 2017 - Version 2.2.7
    - Added: Themes (Oceanwp, Basel, Enfold, Porto, Revo, Aurum, Savoy, Sober, TheGem) support added for single product page positions.
    - Improved: Some themes force font family on i tag, so guarantee trigger icons disappeared, now fixed.
    - Fixed: Low Stock trigger has issue in variable product when backorder is false, now corrected.
    - Improved: Reduce number of requests on frontend. Minified and Combined public css and js files.
    - Fixed: Deal expiry trigger has a time mismatch conflict, now fixed.
    - Fixed: Low Stock trigger has issue in variable product when backorder is false, now corrected.

 October 26, 2017 - Version 2.2.6
    - Fixed: Issue with the timings: Guarantee trigger merge tags and rules for date & time was not working fine as they consider UTC 0 timings to decode merge tags, used WordPress blog's time instead.
    - Improvement: Low stock trigger to work with variations that have backorder enabled, pushing assurance mode to work on this scenario.
    - Added: Compatibility with WooCommerce Product Bundles Add-On for all the triggers. 

 October 24, 2017 - Version 2.2.5
    - Fixed: 'From' text wasn't translatable globally.
    - Added: Guarantee trigger box alignment field added. Options: left, right & center.
    - Improved: Custom Ajax fired to get current server UTC0 time for better performance.
    - Improved: Ajax to get current UTC time placed over window after load to not include it in waterfall.
    - Improved: Do not fire reset UTC time request on pages where we do not have any deal expiry triggers.

 October 1, 2017 - Version 2.2.4
   - Fixed: WordPress native transient function replaced with custom transient function. Issue occurred with cache plugins.

 September 28, 2017 - Version 2.2.3
   - Fixed: admin-ajax url calling from woocommerce_params variable. sometimes that variable didn't initialize, now corrected.

 September 27, 2017 - Version 2.2.2

   - Added: Not now and No thanks option in Notices.
   - Modified: Sidebar links modified.
   - Modified: Plugin updation array key length issue fixed.

 September 16, 2017 - Version 2.2.1
   - Fixed: JS Error, Caused by the last update 2.2, handling for "setting" key in localized data was missing.
   - Improved: CMB2 Tabs localized completely for wcst, it will prevent conflict.

 September 15, 2017 - Version 2.2
   - Improved: Deal Expiry trigger output & Date Cutoff time left merge tag's output will now get refreshed on the client side, using ajax. This will prevent caching issues with deal expiry
   - Fixed: Issue with caching add-ons while using get_transients, returning previously saved data regardless of timeout. Logic replaced by removing all the transients for the item just after order completed.