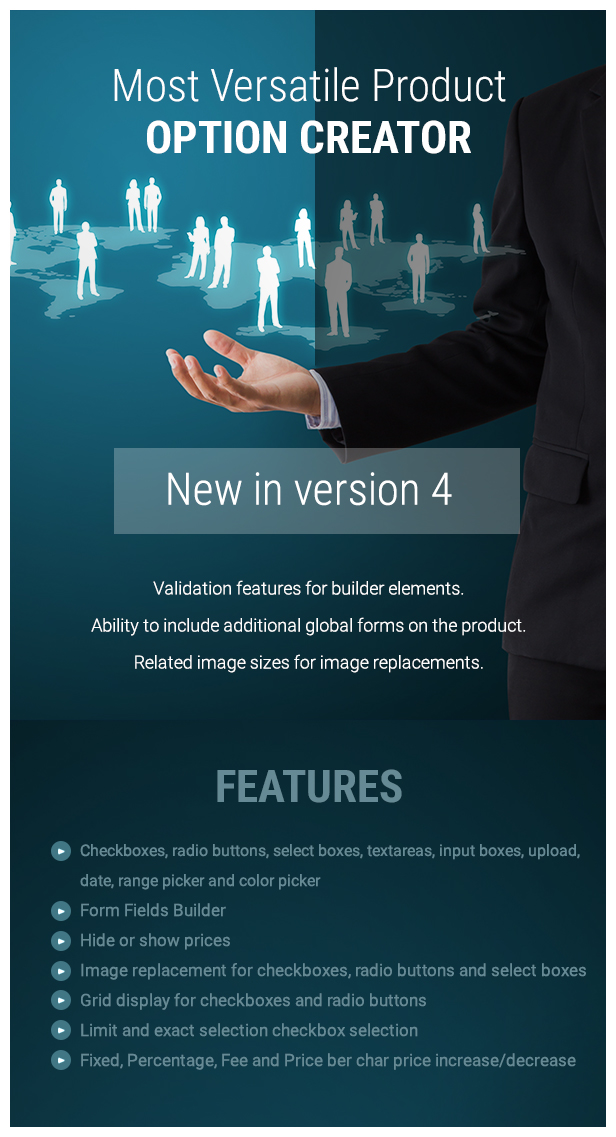 WooCommerce Extra Product Options Extension. Create priced product options and addons, conditional logic (within the form builder), build forms, style & validate features, convert the variation attributes dropdowns to radio buttons, image swatches or swatches. 5 star support.
Does the current functionality of your WooCommerce Products meet your needs? Would you like to add Conditional Logic to your forms? Need further Pricing options to grab your shoppers attention? Extra Product Options is the best WordPress Product Plugin you have been searching for.
Check out some of our 5 Star Reviews from actual customers below!
You can even control the placement of your new fields with the Form Builder. Full support for checkboxes, radio buttons, select boxes, text-areas, input boxes, upload, date, range picker and color picker.
Please ask any question before buying to make sure the plugin works the way you want to!
Features
You can view the on-line documentation here
Reviews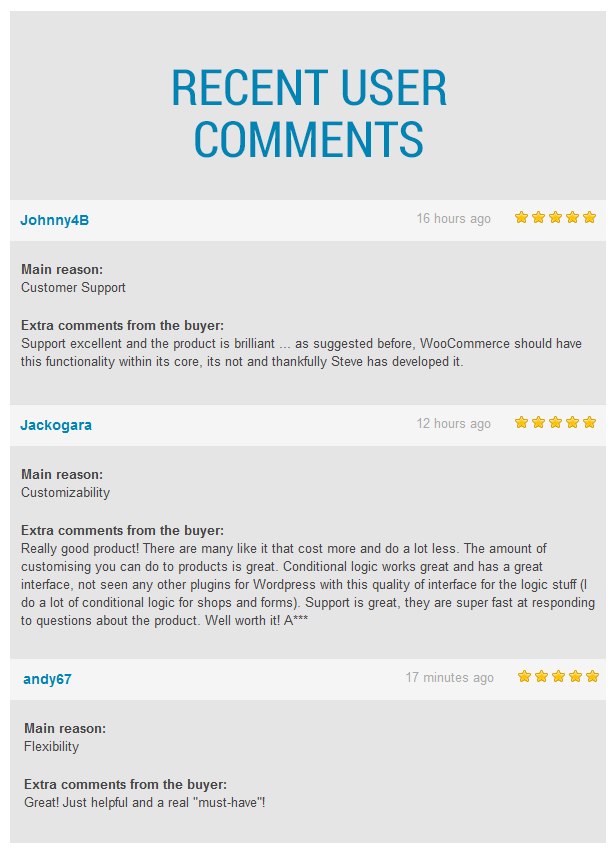 Support
Item support includes 5 star support for all of the following:
Availability of the author to answer questions
Answering technical questions about item's features
Assistance with reported bugs and issues
Help with included 3rd party assets
Changelog
02.06.2018 version 4.6.9.2
Fixed a PHP error in a display template
Added consent checkbox for plugin activation/deactivation
Corrected language translations
Fixed an JS bug in the admin builder interface.
01.06.2018 version 4.6.9
Fixed an issue where hidden elements prices were not being calculated until the element was selected.
Fixed an error when using conditional logic and the slider wizard for sections.
28.05.2018 version 4.6.8
Fixed compatibility with WPML
Fixed an issue with the prices not being calculated at the page load.
Fixed a currency displayed issue.
Fixed an issue where the options container was hidden for various themes.
Added a setting for Woothemes Measurement Calculator to set if you want to multiply the option prices by the calculated area.
25.05.2018 version 4.6.7
Fixed several issues when using disabled elements for the logic and slider.
Fixed a price display issue for select boxes.
Fixed several price display issues on the back-end.
Fixed an issue where coupons could not be removed from the back-end order.
Fixed compatibility with the Measurement Price Calculator plugin.
Fixed compatibility with WooCommerce Currency Switcher.
Fixed compatibility with WooCommerce Subscriptions.
Fixed compatibility with Aelia Currency Switcher.
Fixed compatibility with Woothemes Bookings.
Fixed compatibility with Bookings and Appointments for WooCommerce.
Fixed several calculation issues with Dynamic Pricing and Discounts.
Fixed several JavaScript issues.
Fixed an issue when deleting options from the Order.
Fixed minimum price display when using the override price feature.
Performance increase for shop/archive pages.
Added compatibility with PHP 7.2
Added support for the